This do it yourself bride was fantastic! From our very first meeting, Cinnamon new exactly the look she was after, and she was not afraid to roll up her sleeves and put a whole bunch of good ol' fashion effort into it!!! And it shows in every little detail she did.
You should see the boutonniere she did for all the groomsmen and special guests! It was the most adorable button boutonniere ever!
It was really a perfect day for an outdoor wedding. Although we had rain the day before and all morning, the sun was shining by noon and it really was a perfect Texas day!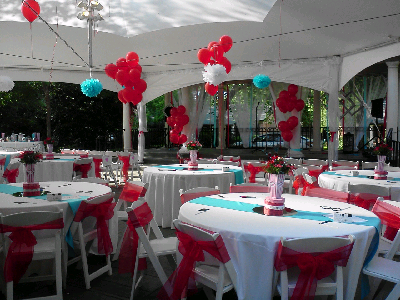 Cinnamon and her mom made those fun centerpieces containers!
( we added the flowers )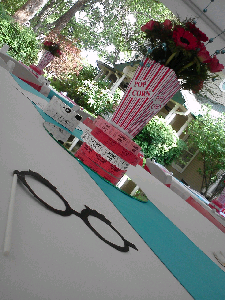 So fun!!
Red Anemone Centerpieces.
For the pavilion at The Sanford House, we hung the brides frames in the middle and even added popcorn strings and ribbon to add additional depth.
The bride cutout silhouette that she took from her and her fiance profile and created a son bean bag toss for her guest.
The carnival themed wedding was complete with balloons, game for the children ,face painting, cotton candy bar even fun photo props. We don't have the shots of the bouquets, just yet, but can't wait to get them!
Oh how fun the fountain was to decorate!
This is such a cute and fun way to reserve seats!