The Belltower Chapel, in South Fort Worth is another one of our Favorite locations! Not only is it gorgeous, but it goes to a good cause!!!
We found these containers for Laura at market and fell in love with them! We were able to get these for our client at only 14.50 each!!!! We were so excited!! Not only were they the perfect blend of modern, yet romantic they were the perfect grey/blue color......guest could take these home or Laura could even sale them to another bride if she chooses to...oh, so many options when we get stuff on the cheap!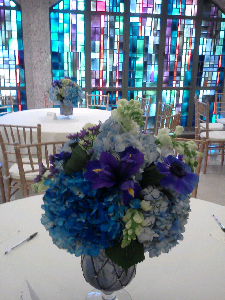 We used, blue Iris, Hydrangea, white Snaps, blue Anemones and a bit of Misty Blue!
Her Bouquet, was a oh so beautiful cascade, yes I said cascade! They are so classic, and when done right, they are that perfect, unusual, romantic touch! We really love to have fun with them, add in different stuff, like Pansies...and the soft, flowy look is great...NOT STIFF, like we used to see back in the 80's! :(
I can't wait to see the actual photo's from the photographer!