So we can had planed this for well over year, and finally the big day with here! Laura was getting married and we were all set to go to, The Modern Museum of Art, in Fort Worth Texas! Everyone was looking so forward to this April 21st, event!
From the left, Mary, Becky and me ( looking silly wishing Jimbo was in the photo instead of me!)
Above is one of my favorite pieces of this event! I am total into salt rocks and love filling oversize vases with them! It really gives a glamorous, yet textured look inside the vase. Kido's, the salt rocks are so cheap, and it is a great DIY if you are on the thrifty for your wedding! Just do a vase, inside the vase so you don't kill your flowers and boom, instant glamour. I did white Cassa lillies and hydrangeas here, buy you could get Hydrangeas from most retailers around 5 to 6 bucks and fill your vase with them! 5 for medium/smaller arrangements 10 for medium to larger pieces.
For the long tables below, we did the bits of diamond accents with that classic white on white look! Again, great budget item! We only have 2 white hydrangea in the most of the centerpieces in those diamond vases.
I really can't wait to see the photo's from Laura's actual wedding photographer! I took these with my phone, during set up....not the same at all! When the lights went down, everything just sparkled, popped and was 100 times pretty than you see here.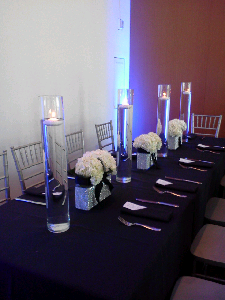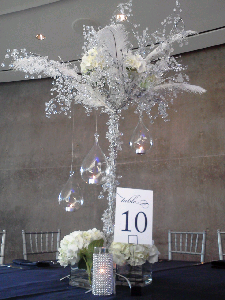 our new bling trees!!!


My new favorite rental item we have! Only 150!! so much cheaper than buying these! They stand about 48 inches tall and are so fun and elegant! It took us about 2 days to make these...ohhh, our poor fingers! lol But so worth it!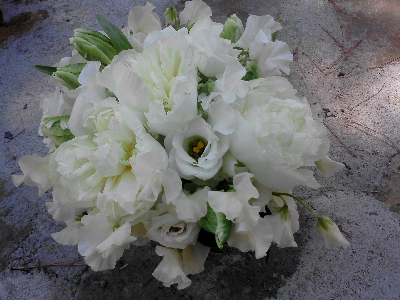 Laura's Bouquet!!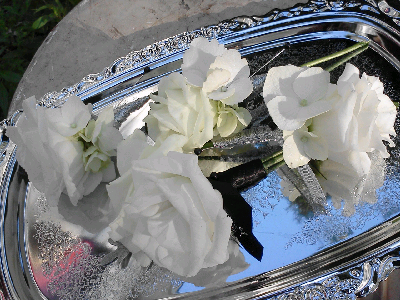 Lisianthus

Boutonniere

s
How fun this was to make! For the flower girl we did a Bling keepsake ball! supper cute!